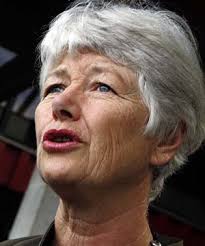 The positive press for Jeanette Fitzsimons has been significant. The greens as a whole are dismissed as loons, but it seems that Fitzsimons is sincere, nice and principled.
It would be more honest to say that Fitzsimons is deluded, like environmentalists, but then it isn't good to speak ill of the dead. Let's just hope that the party posters with her photo were printed on biodegradable material.
Which makes be wonder - what happens to dead environmentalists? Should they be buried in the ground to rot? Surely not - given the current obsession with not letting anything rot in the ground (but instead be composted and sold).
Should they be cremated? No, think of the carbon emissions!
In the sort of primitive society that environmentalists harp back to, they would be roasted on a spit and served to younger, more alive, members of the cannibalistic tribe. These days this is probably unacceptable on food safely grounds. Also, dead environmentalists may not be classed as 'organic food', depending on what they have eaten in the few years before death.
Which leaves only one option: composting.
But even that has its drawbacks. Does Jeanette Fitzsimons have any mercury amalgam fillings? These are toxic to the environment (unless they are in CFL bulbs of course, which are somehow exempt from the laws of nature). What about the nitrogen - won't that pollute the water supply with unwanted nutrients?
Never fear, an enterprising bunch of lunatics have found the solution.
But it doesn't please everyone:
It appears a lot of thought has gone into this process, and it does appear to have some environmental value... But being freeze-dried, vibrated until I turn into a powder, and then filtered for toxic metals does not sound like I'm not subject to any "violent and destructive handling." Furthermore, if water is 70% of your body, isn't it the most important part? Without it one would resemble beef jerky more than a person. Finally, I'm a little confused about the corn starch coffin. Is something wrong with the styrofoam coffin I was planning on using?
Looking at the two that are competing to replace Jeanette Fitzsimons, it is hard to see that the party will increase its influence in New Zealand. Sue Bradford frightens the horses and Metiria Turei would do for any horse that had heard of her. On top of that, there seems to be no role for the environmentalist party in this government, at least.
Maybe we will spend the next few years worrying about humans instead. Save the humans!