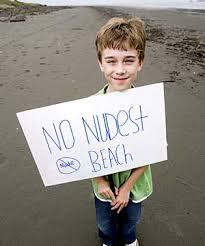 This little cherub is upset that he saw a naked man at the beach.
A 10-year-old Kapiti Coast boy has launched a petition against nudity on local family beaches.

Kena Kena School pupil Michael Hayward presented his 144-signature petition to Kapiti Coast District Council's regulatory and management committee after a "horrible" sighting of a man sunbathing naked on Paraparaumu Beach.
I hope the school will give him a rap over the knuckles about his mixed case, which is something a 10 year old should be taught by now. We don't get to hear why the sighting was so horrible, but his mother says:
"I was very upset when we saw the man with no clothes lying right where we had to walk past him. It was horrible, I felt embarrassed, I think other children would find it disturbing. It was not something kids should have to put up with."
This is a very precious attitude I think. You have to wonder whether this child has a father. I agree that some people can look dreadful naked, but then quite a lot of people look dreadful even with their clothes on. Some of the sights that blob around town need no undressing to frighten children.
Still, as a responsible parent I may have to ask the kids to stop walking into the bathroom when I am in the shower. I couldn't face a petition of this sort, and the horrible sight is presumably scarring them for life.